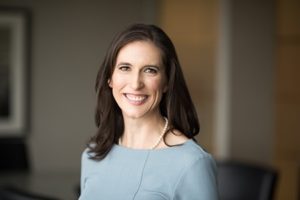 Los Angeles, CA – September 16, 2019 –
Lowenstein & Weatherwax LLP, a leading Patent Trial & Appeals Board (PTAB) litigation firm, is pleased to announce that Bridget Smith, an experienced and highly regarded PTAB litigator will join the firm as its third partner.  Prior to joining Lowenstein & Weatherwax, Bridget was a partner at Knobbe Martens LLP where she served as co-chair of Knobbe's PTAB Trials Practice Group, representing clients in over 55 inter partes review (IPR) and covered business method review (CBMR) matters.
Nathan Lowenstein, of Lowenstein & Weatherwax, said:  "We're thrilled to have Bridget join our team.  She's an exceptional and experienced PTAB litigator and a well-known expert in the field.  She will be a leader in our firm for years to come."  His co-founding partner Kenneth Weatherwax added, "Bridget is a perfect complement to our group."
In addition to Bridget's PTAB work, she is experienced in district court litigation, arbitration, and appeals before the U.S. Court of Appeals for the Federal Circuit. She works with the American Intellectual Property Law Association (AIPLA) and American Bar Association Section of Intellectual Property Law (ABA-IPL) on Patent Office policy issues and serves as vice chair of the ABA-IPL USPTO Affairs Committee. She is a frequently invited speaker and author on IP law issues, and she has been quoted in publications such as Bloomberg Law and Law360.  She is also an experienced software engineer and data scientist, having worked for Motorola Semiconductor Products and a business software start-up acquired by SAP before attending law school.
Bridget noted:  "I leave behind many friends and colleagues at Knobbe Martens, an extraordinary firm, where I began my career.  I'm excited to be working with Ken, Nate and the other attorneys at Lowenstein & Weatherwax LLP.  They've garnered a tremendous reputation and record before the PTAB against top notch competition, an incredible achievement for a firm with just 10 lawyers.  This is a great opportunity for me to grow the PTAB practice with Nate & Ken."
Lowenstein & Weatherwax LLP is one of the top PTAB litigation firms in the country. In its first seven years, L&W has represented clients in over 150 IPRs/CBMs before the Patent Trial and Appeals Board, including in over 30 active matters.  In 2018, industry analyst Patexia reported that Lowenstein & Weatherwax has the highest success rate out of over 1,100 law firms analyzed in an empirical study over the period 2013-2018 in its September 2018 IPR Intelligence Report.  Lowenstein & Weatherwax also has a thriving appellate practice that includes nine active Federal Circuit matters and three prior U.S. Supreme Court matters, including one argued before the Supreme Court.